Ways Fashion Trends Begin
1. Runway Trends
Many of today's current trends are certainly inspired by the looks that designers send down the runways each season during Fashion Week events in New York, Milan and Paris. Fashion lovers wait in anticipation every season to see what has transpired in the minds of the designers that they love over the past months.
Reasons Runways Inspire Trends
Trends start from the runway simply because runway looks are moments created by fashion designers that are purely fantastical! While a great deal of looks sent down the runway go into mass production, Fashion Week shows also feature many pieces that are considered to be couture – something that is made to fit only one person's body. These are the pieces that people wait in anticipation for because they are typically over-the-top designs that look as if they came from a dream. These are the pieces that viewers store in their memories and start modeling their wardrobes after.
Runway-Inspired Trend Examples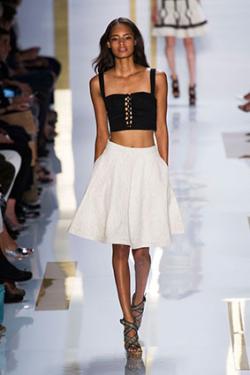 Examples of trends that began with runway shows include:
Proenza Schouler Spring 2014 – At New York Fashion Week's Spring 2014 collections, presented in the Fall of 2013, designer Proenza Schouler sent numerous fringe looks down the runway, providing inspiration for designers to add many different fringe embellishments into their collections. This trend was dominant in the spring of 2014 and will continue to be popular into the fall.
DVF Spring 2014 – Also during New York Fashion Week's Spring 2014 collections, Diane von Furstenberg (DVF) sent many different crop top looks down the runway. This had a trickle effect, leading to crop tops becoming an ultimate fashion trend for Spring 2014.
2. Street Style
The term 'street style' essentially refers to everyday looks that can be seen on the streets. These are the looks that people wear in their everyday life that make an impact on those who pass them by – and become inspired by them! Overall, 'street style' is a newer term in the world of fashion, but it shows how much of an impact that anyone can play in the way that fashion is perceived and trends are set!
Reasons Street Style Inspires Trends
People are easily inspired by street style for two main reasons:
The looks are typically easier to recreate.
People are inclined to follow the trends of an 'everyday person' because they believe these trends are something they can pull off themselves.
Trends Inspired by Street Style
Examples of trends that began with street style include:
Colorful furs – Street style trend setters and designers alike made colorful fur a popular trend. One of the big trends for fall fashion began with Natalie Joos, as her collection sports the colorful fur street style trend in a more muted tone. As fall fashion is starting to hit stores, this trend is making a big splash using very brilliant royal blues and even bright orange!
Coachella hippie look – The music festival Coachella launched in 2007 and became a Mecca for people to watch and capture street style. After the first year, the hippie look emerged and became very strong, as designer began using it an inspiration for their upcoming collections and it has rolled into being very dominant and lasting season after season.
3. Celebrities
There is no question about i t- celebrities are one of the biggest driving forces in trend creation! The public covets celebrities and follows their every move, hanging on to their every word. The fact that celebrities are highly influential is the very reason why huge companies turn to them to be spokespeople for their brands and products.
Reasons Celebrities Inspire Trends
Due to their huge fan base, celebrities can have a bigger reach than the latest fashion magazine. Eyes are always on them and their fans often copy what they do. Many celebrities have become known as trend setters and style icons over the years such as Maggie Gyllenhaal and Sarah Jessica Parker, who have an eye for fashion. Fans look to them to see how to wear garments, what silhouettes are popular, what is the newest 'it' handbag and more. They are a source of trend setting information that people admire and turn to for inspiration and advice.